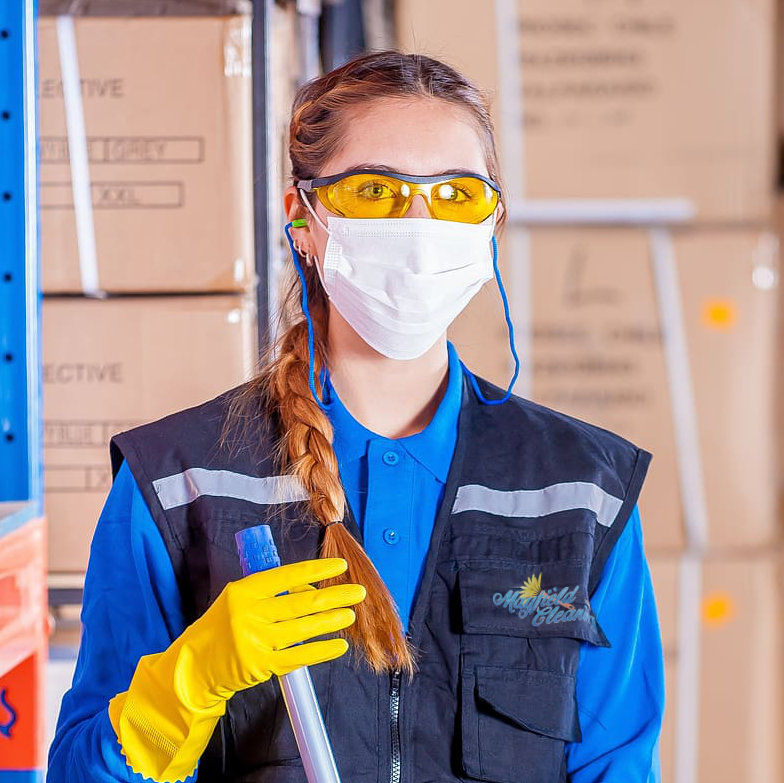 To sanitize the workspace
Make it safe, clean, and secure
Make sure you call on Mayfield
We will clean it fresh for sure.
Mayfield Cleaning has dedicated, dependable professionals who are trained in cleaning safety procedures to create and maintain a safe and healthy work environment for everyone. We make every effort to meet your compliance and regulation requirements. Our service is flexible: we accommodate your busiest times appropriately. Mayfield uses the right equipment to do the job that is essential to industrial-grade cleaning. We will arrange a survey of your premises and provide you with a detailed specification and industrial cleaning quotation for your individual site.
To sanitize the workspace
Make it safe, clean, and secure
Make sure you call on Mayfield
We will clean it fresh for sure.
We offer all work camp cleaning services. Staff willing to stay over night. Reduce liability, increase safety.
We travel to all locations, we have 4×4 Vehicles, 4-way radios, water tanks, and inverters so we can clean in remote locations.
All Mayfield Cleaners are ticketed with FIRST AID, H2S and WHIMS.  We provide Personal Protective Equipment (PPE) such as fire retardant coveralls, steel toe boots, 3MN95 masks, hard hats, safety gloves and glasses.  
We provide all of the safety that a big conglomerate provide.  We do Working Alone Check-Ins, Journey Management Plans, and carry appropriate First Aid Kits depending on location (Level 1 and Basic First Aid Kits).  Mayfield Cleaning also have annual vehicle inspections and a safety coordinator on staff.  If you choose Mayfield Cleaning as your accredited cleaning or janitorial provider, we will reduce your companies liability so you can feel safe and assured all risks are minimized.
Mayfield Cleaning works around your business schedule, giving you more time to focus on important tasks and having your business looking its best at all times. Simply specify with our team of professionals a list of what areas you want cleaned and let us give your business a brilliant shine.
Trust in Mayfield Cleaning
We're flexible, tried and true.
While you take care of business,
We will take care of you.
Complete Cleaning Checklist
Talk to us about any special requirements not included below
Vacuuming daily debris from all floor areas (including tile)
Disinfectant mopping of all hard floor and tiled areas
Empty waste bins, wash as needed and add new liners
Standard glass cleaner to wipe down all glass areas
Damp-wipe hard surfaces with mild disinfectant
Polish brass and bright work
Clean walls and painted surfaces as needed
Wipe down door handles, light switches and baseboards
Empty waste bins, wash as needed and add new liners
Disinfectant mopping and wipe down of all hard surfaces
Sanitize and clean all basins, toilets, doors and fixtures in washroom
Refill soap dispensers
In the event of dishwasher, load all dishes present in dishwasher and run
Wipe down all reflective surfaces including mirrors, brass and glass
Use spray disinfectant on the sides of all surfaces including toilets, doors, sinks and appliances
Weekly, monthly, summer or fall,
Mayfield Cleaning does it all!
Moving? Need a fresher view?
Let us clean your house for you.
One Time Clean
Need a fresh start? Let the professionals at Mayfield Cleaning revitalize your home.
See below for our complete house cleaning checklist.
Special Projects
Whatever big cleaning job you have, put your mind at ease. A special project clean can put extra attention on specific areas of the home according to your unique requirements. Our custom cleaning is tailor-made to suit your needs and leave the future shining bright.
Regular Maintenance
Mayfield Cleaning offers affordable, flexible cleaning service. Choose from weekly, biweekly, or monthly options and let us bring your home to its best shine.
Move In/Move Out Cleaning
Let us take the stress out of moving! Our thorough clean leaves you with peace of mind when moving into a new place. If you're planning to attract and impress more buyers with a professionally cleaned home, Mayfield Cleaning's attention to detail is sure to impress and sell your home faster.
Complete Cleaning Checklist
Talk to us about any special requirements not included below
Cabinet fronts cleaned
Countertops and shelves dusted and/or wiped
Sinks and backsplash washed
Dishes loaded in the dishwasher (if dishwasher is empty)
Appliance exteriors cleaned (stovetop, oven, fridge, microwave, dishwasher)
Small appliances wiped (microwave, toaster, coffee maker)
All surfaces dusted
Windowsills and window tracks cleaned
Baseboards dusted and/or wiped
Doorknobs, doorframes and doors wiped
Light switches wiped
Tables and chairs dusted and/or washed
Floor vacuumed and washed
Sink cleaned and sanitized
Bathtub, shower walls and glass doors cleaned and sanitized
Toilet cleaned and sanitized inside and out
Mirrors cleaned
Cabinet fronts cleaned
Countertops and shelves dusted and/or wiped
All surfaces dusted
Windowsills and window tracks cleaned
Baseboards dusted and/or wiped
Doorknobs, doorframes and doors wiped
Light switches wiped
Trash emptied
Floor vacuumed and washed
Towels changed (if left out)
All surfaces dusted
Carpet and area rugs vacuumed
Hard surface floors vacuumed and damp-mopped
Light organizing
Beds made
Mirrors cleaned
Windowsills and window tracks cleaned
Baseboards dusted and/or wiped
Doorknobs, doorframes and doors cleaned
Light switches wiped
Trash emptied
All surfaces dusted
Carpet and area rugs vacuumed
Hard surface floors vacuumed and damp-mopped
Upholstered furniture vacuumed
Cushions and pillows fluffed and straightened out
Glass tables cleaned
Light organizing
Mirrors cleaned
Windowsills and window tracks cleaned (indoor)
Baseboards dusted and/or wiped
Doorknobs, doorframes and doors cleaned
Light switches wiped
Trash emptied